Specialised silt fence fabric used as an entrenched interceptor fence to control pollution caused by silt laden construction site stormwater run-off.
The Problem
Many construction, forestry and farming activities result in disturbed or bare ground that is vulnerable to weather erosion. The silt laden run-off, plus site debris and other pollutants, often contaminates surrounding land, rivers, streams, lakes and drains – resulting in significant environmental diffuse pollution and potentially costly fines.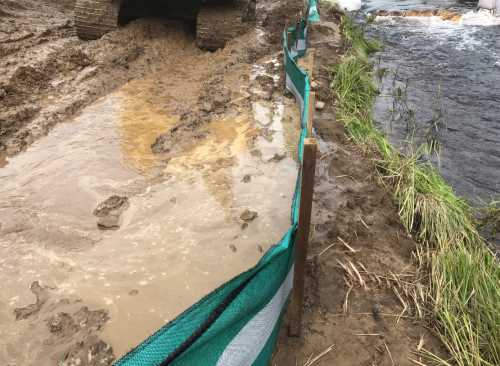 However, due to the on-going nature of such work, it is generally not possible to protect exposed surfaces until the project is complete. So stormwater from such sites represents a major non-point source of diffuse water pollution in  Ireland.
The Solution
Terrastop™ Premium is a special, high quality, permeable, technical filter fabric for stormwater surface runoff pollution management. Terrastop™ can be installed as an entrenched vertical entrapment fence, and is designed to intercept and detain stormwater run-off, trapping harmful silt through settlement and filtration before it leaves the site.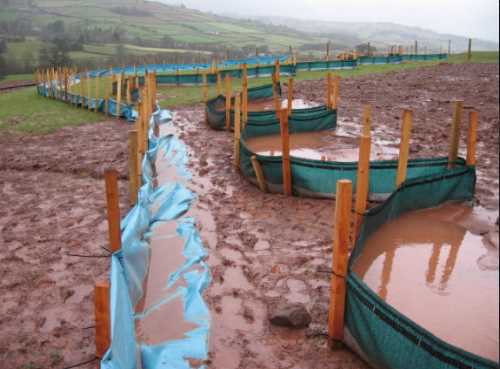 The benefits of the silt fence are increasingly becoming recognised in Ireland.
Silt fences have also been used extensively in other countries for many years, and their proven performance (Intercepting up to 86% of suspended solids [Horner et al. 1990]) has made them a standard Best Management Practice on a diverse range construction projects, while in-depth research and practical experience has identified the most important characteristics for effective results.
Kirsty Liddon's Edinburgh University Dissertation "Prevention of Diffuse Pollution from Active Forestry Harvesting Sites:" concluded "the Hy-Tex [Terrastop Premium] material appears to be the most suitable material for use as sediment retention as it has the most consistent performance between differing soil types retaining the highest volumes of sediment for both gley and peat solutions."
Contact SSI Environmental today