Clearway Garden Products has been in business since 2008 and has many loyal customers who have bought and used the Clearway Algae treatment product.
Clearway Concentrate, a patented formula, effectively eliminates mold, algae, and moss while preventing regrowth for extended periods, enhancing surface safety and aesthetics. This reduces the need for frequent cleaning and minimizes retreatment expenses.
Clearway is safe for use on all hard and fabric surfaces, boasting an impeccable track record of surface safety. It surpasses EU biodegradability standards, leaving a minimal environmental footprint compared to harsh cleaners like bleach and acids. Our packaging is fully recyclable. Clearway Concentrate is fully compliant with EU Biocidal Products Directive, REACH, and holds HSE (Health & Safety Executive) Certification. Trusted by homeowners and leading industrial companies alike, Clearway Concentrate offers a safer, eco-friendly, and cost-effective solution for mold, algae, and moss concerns.
You may be familiar with the owner Steve Hall and his wife Angela from their appearance on CH4 "Escape to the Chateau DIY" and "Chateau DIY". After 18 years of renovating a Chateau and running a holiday business in France Steve & Angela have now returned to the UK where they are expanding the Clearway business to include some new exciting garden products.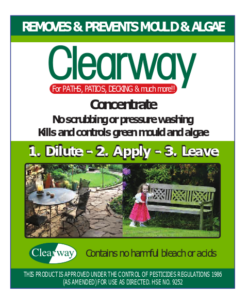 FAQ's – Clearway
How do I make up Clearway?
Can I use my "watering can" to apply Clearway?
Will Clearway harm my dogs and cats?
Will Clearway harm my fish?
Can I use Clearway on plastic?
Will Clearway remove black mould?
Should I pressure wash my patio first?