Training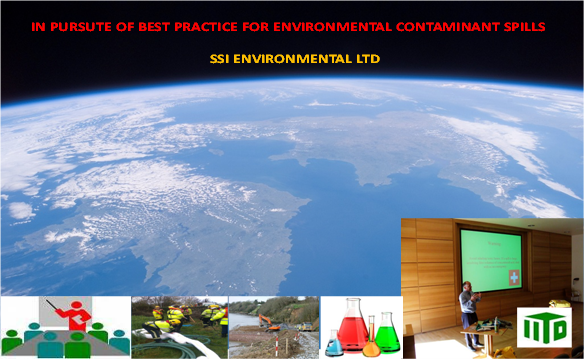 Why do we do spill training – Our Responsibility to the Environment.
Introduction to relevant legislation issues.
Overview of current hazardous materials warning signs & symbols.
Risk Concept – Assessment and Best Practices.
Handling and Storage of Hazardous materials.
The effects of Chemicals on the Human Body.
The characteristics of oil as a contaminant.
Step by step plan for dealing with spills.
Detailed identification of varies spill kit materials.
Practical hands-on with materials.
Hazardous Waste Management.
Q &A.
Assessment & Evaluation – Optional.
Objective
Develop an overall understanding of the concept of spill containment.
Identify with the possible effects of a Hazardous spill.
Directly identify with the correct materials to use – Oil v Chemical.
Establish an understanding and awareness of site layout & vulnerable locations.
Analysis of all possible situations that might occur.
Compliment all existing Spill Response Procedures.
Ensure that a level of competence is established.
Training Instructor: Donal Sheerin
Oil Spill Response/Supervisor – Accredited by the Nautical Institute for the Marine & Coastguard.
Chemical & Environmental awareness Training – Oil Technics, Aberdeen, Scotland.
MMPP Adsorbent Training – SPC manufacturing, Herentals, Belgium.
Certified on Inland River Spill Response – ISAA. (International Spill Accreditation Association)
Certified by the Irish Institute of Training & Development.
Member of the Irish Institute of Training & Development.
SSI Environmental Ltd
SSI Environmental is very aware that most companies have had members of their staff trained for emergency Response situations to a very high level. However, the above program is focused on creating awareness for establishing good housekeeping practice for the everyday operations of an organization. It is important that the relevant knowledge for spill control and containment is shared and identified with.
Our training content is site-specific, based on information provided by the client or from our own evaluation which consists of a visit to the relevant site or sites. The course facilitates up to 16 participants all of whom will receive certification on completion. Course duration is approximately two and a half hours.
To enquire about this product – call us on 01 8855555 / 087-9367065 or contact us here