Hard Covered Spill Pallet for 2 x 205ltr drums – BP2HC
Ideal for outside use this hard top cover protects containers from UV damage and stops rain water and dirt from contaminating the drums and sump.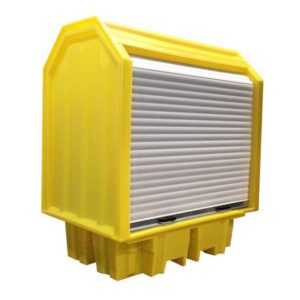 Manufactured from polyethylene for broad chemical compatibility this unit has a lockable roller-top door to prevent unauthorised access and integral base fork pockets to aid transportation.
Will hold 2 x 205ltr drums or smaller containers and comes assembled and ready to use.
Specifications
Length: 1490mm
Width: 990mm
Height: 1690mm
Weight: 85kg
Sump: 230ltr
UDL: 650kg
To enquire about this product – call us on 01 8665676 / 087-9367065 or contact us here