Covered Spill Pallet for 4 x 205ltr drums – BP4C
Keep drums protected from the elements with this covered spill pallet is suitable for 4 x 205ltr drums.
The cover prevents rain water from reducing the containment volume and can be easily tied in place using the straps provided. Compatible with most liquids and with forklift pockets this model can be easily assembled and the plastic grid removed for cleaning.
Fully compliant with UK and EU regulations.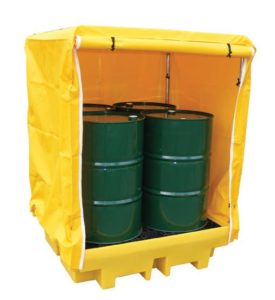 Specifications
Length: 1415mm
Width: 1310mm
Height: 1870mm
Weight: 54kg
Sump: 410ltr
UDL: 1250kg
To enquire about this product – call us on 01 8665676 / 087-9367065 or contact us here