Soft Covered IBC Bund for 2 x 1000ltr IBCs – BB2C
The frame and cover of this IBC bund protects the bund and IBC from the elements making it ideal for outdoor storage.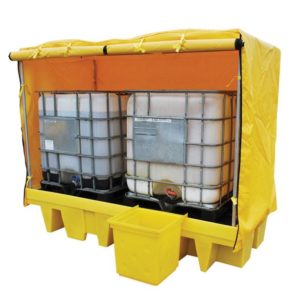 Complete with soft cover and roll up door this model is designed for use with 2 x 1000ltr IBC. The bund pallet is manufactured from polyethylene for total corrosion protection and broad chemical compatibility and fork pockets are provided easy loading. Most importantly this item meets legislation ensuring your compliance with UK, EC and Worldwide regulations.
Specifications
Length: 2560mm
Width: 1350mm
Height: 2210mm
Weight: 166kg
Sump: 1140ltr
UDL: 2500kg
To enquire about this product – call us on 01 8665676 / 087-9367065 or contact us here