VertiVerd vertical green wall modules
are designed as a cost effective and practical solution for domestic and workplace applications when it comes to Eco Floral Design.
Do you love the look of a giant living wall, but the thought of installing or constructing a massive planter is not appealing and just seems like a lot of work?
Would you rather build a large vertical garden out of small parts and piece them together in manageable sections, but have the finished product look like one big living wall as opposed to several small planters?
Does the cost of existing modular systems make it too expensive to achieve your dreams?
Then our new VertiVerd vertical garden kit should catch your eye. This self irrigating planter has a super simple design and is easy to piece together. Resulting in a stunning vertical garden at a fraction of the costs of other systems which can be used by professionals and home gardeners alike.
You can even use a row of these containers underneath a window instead of the typical planter boxes. Not only are they lightweight and easy to attach to a wall or wooden railing, but you can combine multiple segments to create the length of planter you need.
Simply screw the planters to timber battens mounted on your wall or fence or, for even easier assembly, VertiVerd can be attached to 2" galvanized weld mesh which requires much fewer wall penetrations.
They are also conveniently designed to hold individual flower pots, so you can easily remove and replace plants as you like. This feature is really nice for a seasonal herb garden or planting colorful annual flowers each spring, summer and autumn.
In addition to being simple to set up and install, this vertical garden is also designed with a water-conserving and easy irrigation in mind. Save water, save money and save time all while growing healthier and happier plants. You only need to water the top level of your garden (manually or through a simple drip irrigation system), and then the underlying levels are watered one after the other through a trickle-down system that is built right into the planter.
VertiVerd Vertical Wall Planters are sold in 3-pocket sections in which you can place 3 planted 5" pots, or, insert the optional removable filter tray layer and place soil and plants directly into the pockets.
The filter layer helps plants "breathe" and grow healthier, plus the reservoir keeps plants watered up to two weeks, depending on climate and species.
Make your living wall as large or as small as you like. You can also design your garden in a unique shape or design and you can use it indoors or out. And if that wasn't enough, the containers are safe for growing edibles (made from recycled polypropylene).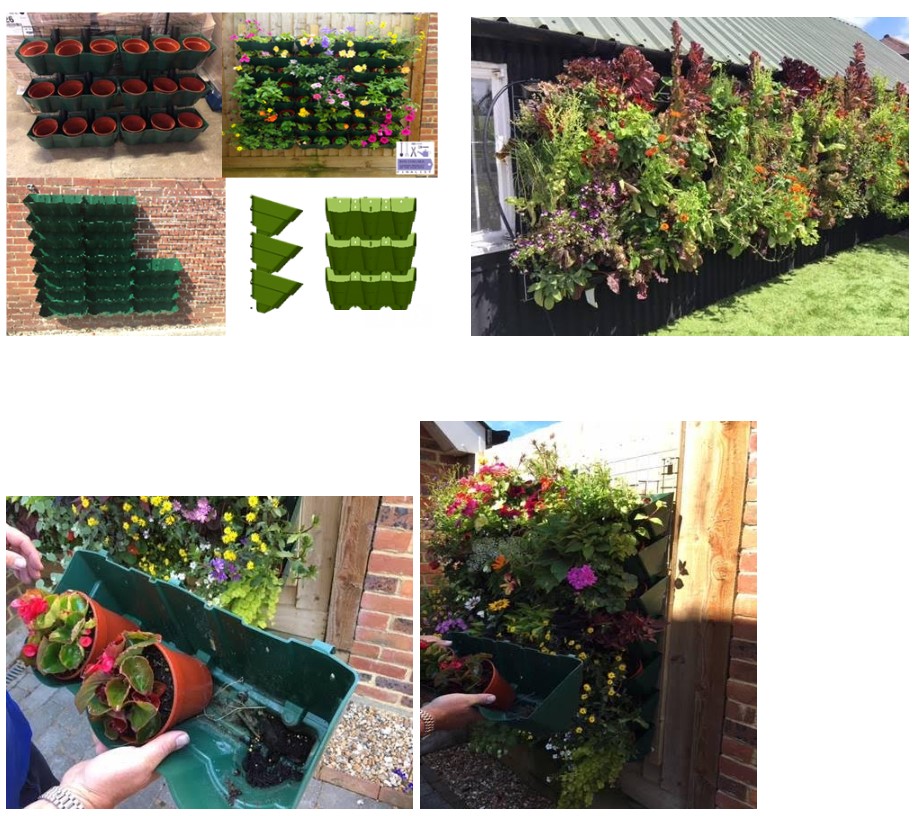 Seven benefits of having plants in your office
– Ref: CIPHR – ALL ABOUT PEOPLE
More and more companies are adopting an eco-friendly platform within the workplace for their employees. The art of floral design plays an important role in our society. It is an important part of social interactions and interior design. It is important in relationships and for enhancing the overall quality of our lives. Studies have shown that by simply adding some greenery in the form of plants indoor or in staff recreational areas can have major positive benefits for employees and their organisations.
They help to reduce stress
They help to increase productivity
They help to reduce sickness and absence rates
They make workspaces more attractive to job applicants
They clean the air
They help to reduce noise levels
They can boost creativity
To enquire about this product – call us on 01 8665676 / 087-9367065 or contact us here