Road Bio – Oil Spill Detergent
Diesel and oil spills on roads present a hazard. They need to be dealt with immediately and effectively.The traditional method of removing road spills, particularly larger spills – with oil absorbents or sand – may not be practical in all situations.
The Solution
Use an oil spill remover that:-
Removes hydrocarbon spills rapidly.
Is free from hazardous constituents.
Is non-flammable.
Provides the most cost-effective solution.
Is 'quick break' and forms no emulsion or foam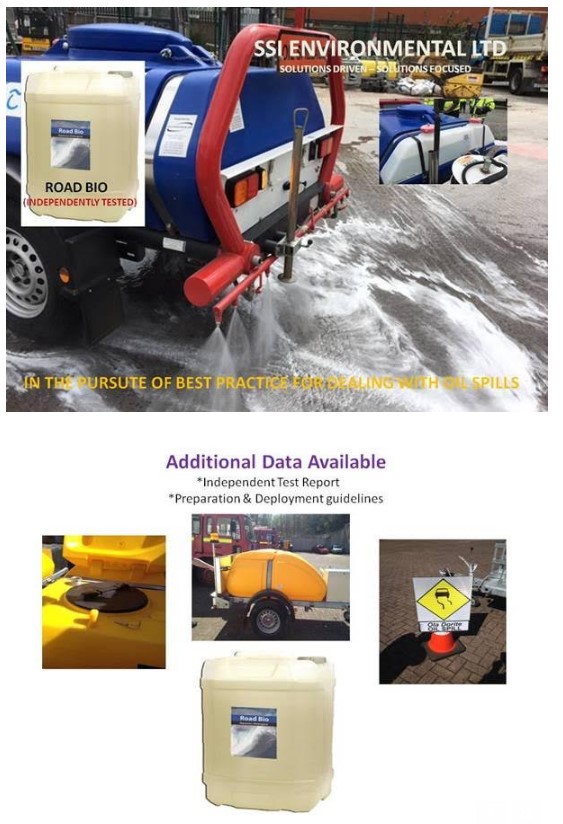 ROAD BIO
A unique product from SSI Environmental that removes oil spills on roads without causing emulsions. Road Bio contains biodegradable surfactants that release oil from even the most porous surfaces. Road Bio is simple to use and presents no risk to the environment.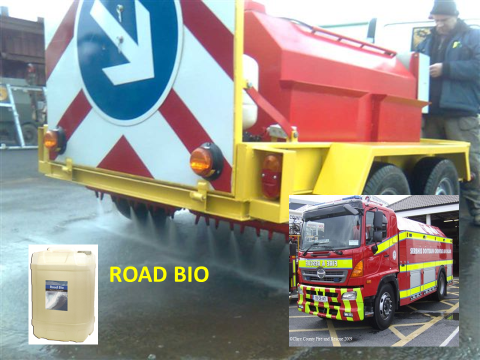 1 litre of Road Bio is sufficient to treat 1 square metre of oil contaminated surface when brushing in. Use a 4-8% dilution when jetting or spraying.
Shake the container before use.
Pour Road Bio over the spill, brush in and leave for 5-10 minutes.
Rinse off with a clean water jet.
Alternatively apply the diluted solution via jetting or spraying.
Approvals:
The Dutch Rijkswaterstaat (National Roads Authority) recently awarded Road Bio top product status during evaluations of 20 other oil spill removal chemicals. During these tests Road Bio achieved the highest overall score:
| | | |
| --- | --- | --- |
| Cleaning Efficiency: | Good | 4 |
| Road Erosion Test: | Excellent | 4 |
| Environmental Impact: | Excellent | 4 |
| Cost & Dilution: | Excellent | 4 |
To enquire about this product – call us on 01 8665676 / 087-9367065 or contact us here