SILT FENCE REVIEW – Martin Sheridan
As you may be aware, there has been a significant emphasis directed towards the whole subject of Silt Control. A very important component  of Silt Control measures is that of the Silt Fence. On all major jobs in proximity to water, there is generally a 'Silt Fence' specified.  With the emphasis on design and performance of such Silt Fence becoming more elevated as time goes on, we now find more and more companies supplying their solutions.  With that in mind I would like to draw your attention to the whole area of specification and please consider the amount of rainfall we receive per annum. I am afraid that without a very precise and definite specification , companies interpretation of a silt fence  can vary significantly . Hy-Tex Terra-Stop Premium has been the market leader both here and in the UK for over 20 years. We would suggest the following points are most relevant when choosing/specifying a 'Silt Fence'.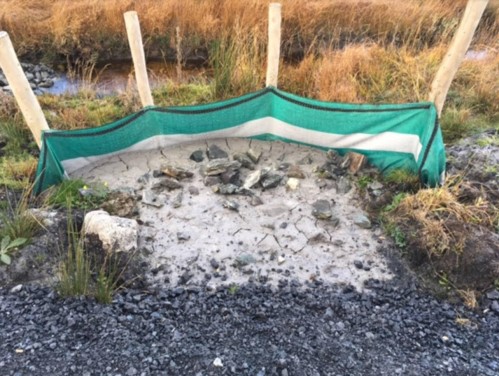 1.Permeability: Terrrastop Premium has a Flow Rate of 21L/m sq. per sec. based on European Standard  ISO 11058 . The normal Silt fence sold in Ireland generally has 7L/m sq. per sec.   We have seen a huge amount of Silt Fence failure last year in Ireland and the Low flow rate on a lot of these  'silt fences' is a contributing factor.
2.Micron Size : Hy-Tex Terra-Stop Premium Silt Fence has a micron size of 180 . This increases as silt builds up against the fence which give an additional level of filtration
3. Tensile Strength: Tensile Strength of premium is 22Kn/m . This is another important factor
4. Trapezoid Tear Strength: .48kn . If the Silt Fence tears in situ ,this can have catastrophic consequences
5. Reusable: Hy-Tex Terra-Stop Premium is a very durable product which means it can be moved from Job To Job which in turn will save money
6. CE Mark: Self Explanatory
7. Independent Study: Edinburgh University Dissertation 'Prevention of Diffuse Pollution from Active Forestry Harvesting Sites concluded "The Hy-Tex(Terrastop Premium)material appears to be the most suitable material for use as sediment retention as it has the most consistent performance between differing soil types retaining the highest volumes of sediment for both gley and peat solutions .
To enquire about this product – call us on 01 8855555 / 087-9367065 or contact us here