The Plant Nappy sits under a huge range of plant machinery and hand-held equipment to adsorb oil and prevent it from reaching the ground, protecting the environment.
Prevent spillages in the workplace from turning into an environmental disaster with the help of Plant Nappy, a great product used to contain the dangers of oil spills in the workplace.
Any parent knows that dealing with a baby's nappy isn't the most pleasant part of raising a child. Imagine how much worse it would be if the baby didn't have a nappy at all. Yet, for a moment please try to imagine just that; magnify the result on an industrial scale, and consider the potential effects on the environment not just of spilled human waste but spillages of all the other liquids, such as fuel and oil in its multitude of forms, that we rely on to sustain life as we choose to live it in the 21st century.
By focussing on spillages in the workplace we must emphasise that we mean this in its broadest possible sense. It encompasses far more than back street garages and industrial parks, but major industrial concerns, farmers' fields, and even fishing grounds at sea. If you take the effects of oil spills in the latter then it is clearly apparent that the effects can be wide-reaching and long-lasting; simply look at the Deepwater Horizon incident.
However, even much smaller oil spillages in the workplace can damage the food chain, or even destroy it completely. Put simply, if even a small amount of oil is spilled and reaches a watercourse then the consequences can be alarming. Water is made up of polar molecules and oil is made up of non-polar molecules. When they come into contact, they do not mix – the oil does not dissolve into the water. The effect of this is that it simply sits on the water and clogs up the marine ecosystem. It gets into the fur and feathers of animals and it generally prevents them from functioning properly; it is also highly toxic. Gradually, over time, this prevents the ecosystem from functioning and this can have indirect consequences all the way up the food chain.
This is why anyone working with fuel or oil that can be spilled (and they all can) should be protecting the environment by planning for when that spill happens – as it surely will, eventually. Oh, and not to forget that apart from the environmental effects, there are also significant financial consequences for companies permitting spills that endanger the environment.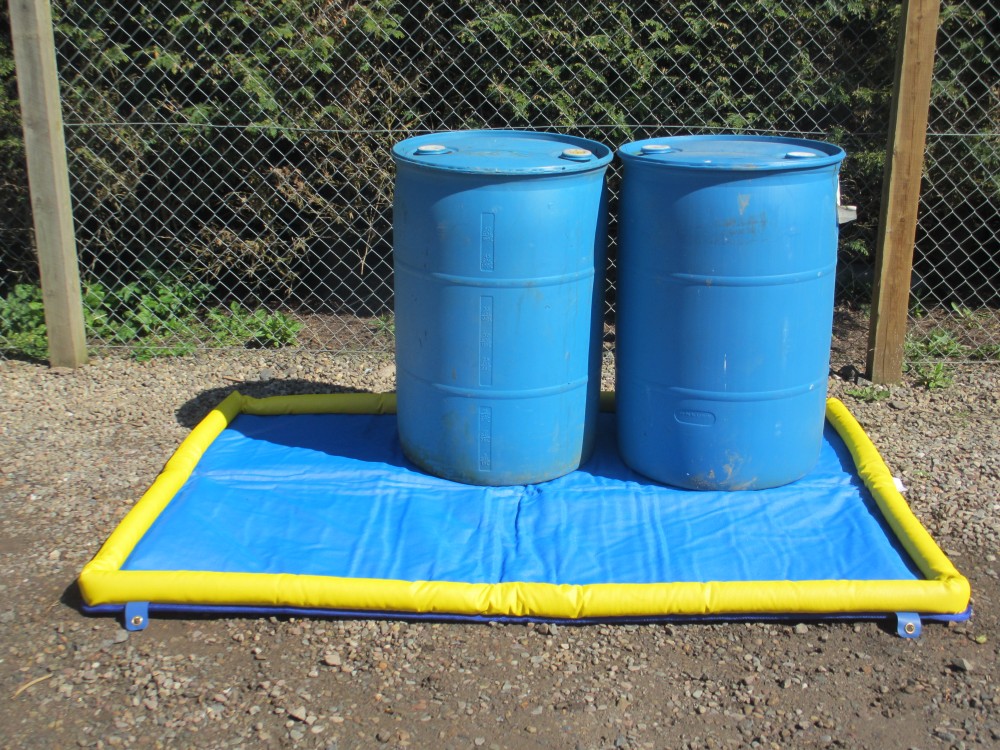 Plant Nappy – prevention is better than cure
Prevention is always far better than cure. This is where the plant nappies come into their own because, used properly, they form the perfect 'safety net' for spillages in the workplace.
Their main function is as a 'safety first' base for people working in a variety of sectors, such as construction, heavy industry, agricultural workers or mechanics. They are perfectly designed to allow plant and machinery to be positioned onto them in order to act as prevention for any spillages in the workplace by catching any leaks from the item of plant. The absorbent material in the nappy is always ready to contain any spill, such as might happen when refuelling by hand from a container of petrol.
The really clever part is that plant nappies are clever enough to distinguish between harmless water, which they allow to pass through, and fuel & oil, which are captured. What makes this a really useful feature is that the absorbency you've deployed isn't wasted on water, but is exclusively available for what really needs to be trapped for safe disposal. They are so much more effective than old-fashioned drip trays because after a spill the fuel or oil they have contained can easily be disposed of, whereas a drip tray is little more than another spill waiting to happen, especially outdoors in the rain.